My husband and I have always loved the Frenchies and the Bostons.  The two breeds blended together into a Frenchton makes for an exceptional example of the best of both breeds.  They truly compliment one another!
We've taken over 16 years of experience in raising exceptional AKC Boston terriers and more recently AKC French bulldogs, and put that into our specially Designed Frenchton puppies.
Let me introduce you

to the 4-legged members of the family. Most of our Frenchtons are a First Generation Blend of a health tested, AKC Champion Bloodline French bulldog, and an AKC Boston terrier, not a mix of a two Frenchtons.  Recently we have raised two Frenchton girls that will be paired with a Frenchie so we will have some 3/4 Frenchie 1/4 Boston Frenchtons as well. Some people refer to the 3/4 Frenchie 1/4 Boston as a Faux Frenchie.
Each of our adults is in exceptional health, bred for their strengths,  has not been over-vaccinated, has been health tested (some of the younger ones are still having testing completed), and is being fed a healthy home-prepared diet.
~~~~~~~~~~~~~~~~~~~~~~~~
AKC Von – Son of Bogie One
Von, who lives with my brother, is the son of our previous AKC Boston terrier sire, Bogie One who had over 40 AKC champions in 7 generations.  He's a handsome fella who loves to run and play. He tries to wear my dad out with his tennis ball or 'socky' which must be thrown over and over again.  He's very smart and obedient and insists on greeting everyone who comes in and making them feel welcome.  
He has the quiet confidence of his sire and the sometimes more energetic nature of his dam (Malley) who also lives there.  We've raised Bostons for about 17 years, with a break in the middle to raise our kids, and Malley became our first Boston as we came back to raising them in 2009.  
Von is doing a great job carrying on the lineage of both his champion bloodline sire and his cherished dam, Malley. He has a fantastic personality to go with his handsome looks, and his babies have been exceptional!
~~~~~~~~~~~~~~~~~~~~~~~~
Our Frenchie Male – AKC Blue Kabota
Kabota is now adopted into his amazing forever family but his son Monkey, is here to carry on his comical genetics and his international champion lines.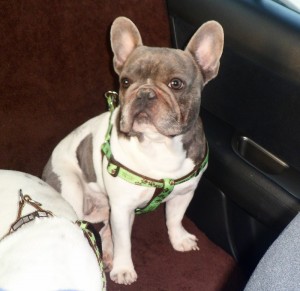 AKC Kabota is a fun-loving, stocky, 20 pounds of white and brindle blue pied Frenchie fun with a great international champion bloodline.  He's a very busy and funny little guy with plenty of spunk and a quirky nature.  He loves to follow me around the house, bark at the broom, go for rides in the car, and make sure his 'reflection' is kept at bay.  (If he sees himself in the shiny door kick-plate or glass oven door, he must go bark at his 'twin' intruder.)  When I'm sitting on the couch, he insists on trying to give me his snorty kisses.
Kabota's hips and knees have been OFA certified and through parentage DNA testing his babies are certified to be clear of jhc (juvenile hereditary cataracts).
~~~~~~~~~~~~~~~~~~~~~~~~~~~~~~~~~
Monkey – Kabota's Son – AKC Frenchie
AKC Beautiful Brindle Monkey is Kabota's son that we have raised from a newborn. We are excited to have him as our male that will pass the 'blue gene' and international Frenchie champion bloodlines onto his babies. His first adventure at fathering puppies was with Nessa (see below).
Monkey is a great little guy who has a bit more of a serious nature than his sire Kabota, and also has more of an obedient turn to him. I like that. He still has a bit of the Frenchie funny personality but actually seems to care that we ask him to do something (like come or stop). He is very affectionate and tries to be a good boy. He is happy to go along with whatever we are doing. 
He's bulked up to his adult weight at about 20 pounds. As part of our quest to have the healthiest babies possible, we believe that he will also pass on a trait that we hoped he would have, and that is a nose that is just a bit longer than his champion bloodline sire. This small amount of added snout can help lessen the possibilities of brachychephalic (flat faced) issues that can be common with Frenchies.  
Monkey's babies have been exceptional – great looks, fantastic bloodlines and amazing personalities.
~~~~~~~~~~~~~~~~~~~~~~~~~~~~~~~~~
Hami – AKC Frenchie
Hami is no longer with us and I miss him so much!
I'll try not to sound partial as I describe our little Hami-boy. He is a beautiful cream colored stocky comedian in a Frenchie body. He's decided that he's allowed anywhere in the house at any time and so he makes these plans to achieve the goals that he continually sets for himself.  He's so full of his Hami-self that he believes he can get away with his shenanigans and he's just so darn cute and comical that he usually does, which only makes it worse!  
In the mornings, Ham-mer loves to escape from his area in the dining room and sneak upstairs to our daughter's room to wake her up. She knows he likes to do this so often times, she will just let him sleep in her room overnight so he will let her sleep! I tell you, I think he has a stash of 'How to Achieve Your Goals in Doggie Life' books hidden somewhere.  
We got him when he was about 6 months old and he was a little bit timid and backwards at first but it didn't take long for him to fit in and develop his winning personality.
I just love his expressive little Frenchie face. His first babies (with Chicka) were absolutely adorable!
~~~~~~~~~~~~~~~~~~~~~~~~~~~~~~~~~
Our Boston Male – AKC Huskey's American Hero by Rocky
Hero is now adopted into his forever family with the option to continue to come back to visit as a stud.
AKC Hero (Boston terrier) is the son of Rocky who comes from the Cosmo lineage with each male between Rocky and Cosmo being AKC Champions.  
He's a great looking fella with his daddy Rocky's great brindle coloring and a lively outgoing personality. He keeps us entertained with his energy and his antics. He definitely has the energy of his dam (Meeko the Mischievous one – now adopted into her forever family).
Hero is very affectionate but also keeps a busy agenda. He's like a man on a mission, checking off his 'To Do' list.  He weighs in about about 17.5 pounds, and is our second generation male to be raised with our Longevity Plan.
Love this funny little guy!
~~~~~~~~~~~~~~~~~~~~~~~~~~~~~~~~~
   

OUR Wonderful GIRLS 
Our Boston terrier and Frenchie females are exceptional young ladies!  Several of our Boston girls are of AKC champion bloodlines with heritage descending either from: 
Cosmo, probably the most famous Boston terrier of our time (Ch Flashpoints Cosmic Ray Rom, Westminster's 2003 Best of Breed winner and Top Sire of the Millennium according to the American Kennel Club)
or Bogie One, our previous stud, who carried over 40 champions in 7 generations. 
Our newest Frenchie Female, Ori (raised from a newborn) carries her sire's international champions and exquisite heritage of Frenchie colors.

AKC BOSTON GINGER
Ginger will be available for adoption in July 2018 or so. She is 4 years old.
Gorgeous champagne Ginger is a fairly recent addition to our family. She is a fun loving little girl and has mastered a somewhat goofy look on her face as she is running and playing in the yard, enticing the other dogs to join her. She loves to look intently into our eyes as if to say, keep petting and petting and petting me. She stayed with one of my friends for a while and promptly became a 24 pound lap dog! She is well behaved and loves to be right with us no matter what we are doing.
You can see she is patiently tolerating the bunny ears placed on her by our youngest. I love her sweet little red and white Boston face!
Ginger weighs about 24 pounds and is an exceptional mama. Her and Kabota's babies were all blue and white and can be seen on our 2016 Available Puppies Page. These little guys are so adorable! All adopted.
After her babies that are due this spring, she will be available for adoption.  She is vaccinated for life and microchipped. Ginger is house trained, crate trained, generally obedient, fun loving and has a precious loving personality.

 Frenchton Graci – Our First Generation Frenchton –
Kabota and Ginger's Daughter
Our little Graci girl is an amazing blend of an AKC Boston (Ginger) and an AKC French bulldog (Kabota). Our Frenchton raising mission started out as strictly 50/50, Frenchie/Boston mix but we realized we then really didn't know all about Frenchtons because we didn't have any (we only had their AKC Boston or AKC Frenchie Parents). So with Graci and her sister Naomi (raised by my daughter), we will offer some different Frenchton blends (75/25 Frenchie/Boston, and 75/25 Boston/Frenchie) along with our 50/50 Frenchtons.
No need to get confused, common sense dictates that the more Boston or Frenchie genetics in a puppy, the more likely they will look and act more in that direction BUT they are all still Frenchtons! And as all being Frenchtons raised from AKC Frenchies/Bostons, all of our babies will carry champion bloodlines, will have amazing personalities, exceptional health, and an irresistible blended look of a Frenchton.
Graci is a white and blue pied Frenchton, which means that she is predominately white with spots of another color (blue in her case). Her head and face show off the beauty of both the French bulldog and Boston. On purpose we wanted her to have a slightly longer snout (for health and longevity to lessen/alleviate breed breathing issues). When we look at her we see both Kabota and Ginger, her parents. Her personality is also a great breed-mix blend. She is somewhat comical like her Frenchie sire and also generally obedient like her Boston mama. Her loving personality is compliments of both parents.
Her first babies were 75% Boston/25% Frenchie (sire AKC Von-Boston) and they were over the top cute, smart, and simply irresistible if you ask me! And her next babies will be our first breeding for the 75% Frenchie/%25 Boston (sire AKC Blue Diamond, our new Frenchie stud raised by my dear friends). We are very excited to see  the exquisite babies that 'Blue' and Graci will create.  These will be some of our 2018 Spring babies.
Can't wait!

 AKC FRENCHIE PERFECTION
This little girl is just a gem!  She has the great traditional French Bulldog looks and color and a wonderful middle of the road personality. Although she can tend to 'want' to be the one in charge, she is smart and knows when not to push her luck. She is very submissive and loves to be right with us on the couch or to follow us from room to room.
She and her daughter ORIE are living with some friends of ours who needed a couple of Frenchies to love. She enjoys being spoiled by them and wants to be right where they are all day long!
We are planning some winter babies (early 2018) with her and our Champion Bloodline Boston Von.  She weighs about 19 pounds and we expect her and Von 's (17 pounds) babies to weigh around 18 pounds full grown and to be traditional Boston colors, possibly mostly brindles. You can see her previous babies on our 2016 Available Puppies Page (all adopted).

AKC Frenchie ORIE
Kabota & Perfection's Daughter
Meet little Orie! We've raised her from a newborn and all I have to say is that there's always one in the family and she's the one!
Her fairly high energy and wonderfully determined personality make her the perfect candidate to be our Alpha female.
She's a girl who knows what she wants, figures out how to get it, and works until the job is done.  When she sets her heart on something, you can pretty much consider it checked off of her to-do list.
Orie carries a beautiful full-body dark brindle coat with a signature 'Frenchie' white patch on her chest and lighter muzzle. Her sire is our Blue Kabota and her mother is Perfection (see above). I'm looking forward to the possibility of the color options for her offspring. Anything from cream to brindle to blues could be possible depending on the potential sire. 
Orie loves to be right with us and is very affectionate. She is happy to be playing, exploring the yard, playing, sitting right with us on the couch, playing, and sleeping on someone's lap. As you might have guessed, playing is serious business to her and she relishes her position as the Alpha female of our girls. Orie stays with one of my good friends who helps train our young ladies.
We are planning some babies for her in the winter and are excited for her to pass on Kabota's blue genetics and international champion heritage. 
AKC BOSTON NESSA
Nessa is our precious little lady that we have raised from a newborn. Her Parents Ellie (adopted into her awesome forever family) and Hero are our Boston culmination of two of our fabulous Boston bloodlines. From Hero with his lineage from Cosmo (probably the most famous Boston of our time) and Ellie, who is the daughter of our previous Boston stud, Bogie One, who carried 40 champions in 7 generations, she is a very special little girl that we thought about putting in the show ring but decided against it due to the time commitment. 
Nessa's personality is easy going and affectionate. She has her mother and grandfather's 'every day's a great day' disposition to go with her fabulous looks.  She likes to be right where we are and has a generally obedient nature. She has been practicing her escape tactics though and can scale every gate we have in the house so that she can go wherever she pleases. Smart girl with very refined and middle of the road personality – not too busy and not to laid back. Just right!  
She has had her first litter sired by  Monkey (Blue Kabota's son) and look forward to this pairing again! She is our 4th generation female raised with our longevity plan. 
In her upcoming babies, we expect some traditionally colored Bostons possibly with some exceptional brindles in there but we will see! Nessa weighs in about 16 pounds. 
Nessa lives with a friend of mine who keeps a couple of my Boston girls at a time. They are super spoiled by her and her teenage son. 

AKC Boston Chicka – Amazing personality
Chicka came to us at 8 weeks old. She was lovingly raised until then by a friend of mine in Florida. Her bloodlines come from Cosmo, probably the most famous Boston of our time.  She is a very sweet and social little girl, loves attention and believes that she is more important than all of the other girls. She obediently comes when called. She also comes when anyone else is called and insists on butting in line so she can be the first and closest one to us to find out what is going on (treats, petting, food).  Chicka loves to hang out on the couch and follows us around from room to room. She's made it her job to make sure all is well with everyone. 
Chicka is living with a friend of mine and her teenage son now. My friend Valerie needed 2 Bostons to spoil so she keeps two at a time for me. She is also a stay at home mom so has plenty of time to keep the girls occupied, entertained, and in line, lol. 
Chicka is a beautiful dark brindle and white traditionally marked Boston. Her first babies (x Monkey as sire) were fabulous.  When we do a repeat pairing of these two, she should have some beautiful brindles and possibly some traditional black or seal/white babies as well. Seal according to the AKC is black that has a reddish tint in bright light.
You can see one of her first babies, LeeLoo, now a young adult in her video commercial 'debuts'.
Chicka's baby Chloe/Leeloo's first video:
Most recent (at 10 months 16 pounds):
Chicka is a bit bigger than Nessa, around 18 pounds so her babies should be around 18-19 pounds full grown. Chicka is one of our amazing little girls and is a fabulous Mama.
AKC Boston Lady - Adopted and is a Therapy Dog for assisted living residents
Our petite elite Lady, daughter of our previous AKC Boston stud Bogie One (before we raised Frenchtons) has carried on his tradition of excellence and his champion lines and has been adopted into her forever family. They oversee an Assisted Living Residential Home where Lady is now a 'Therapy Dog.' This doesn't help me miss her any less!!
Lady was raised from birth by our grown daughter (and is Sophie's sister).
 She is the spitting image of her sire, Bogie One who carried 40 American AKC champions in 7 generations. Her personality is phenomenal and she gets along with everyone.  She leans a bit to the milder/calmer Boston personality. To me this is the PERFECT Boston terrier disposition.
She is about 12 pounds, and is beautiful inside and out! She is our third generation Boston and has been raised with our Longevity Plan and is also vaccinated for life and microchipped. Lady is house trained, crate trained, leash/harness trained, obedient, affectionate, and has that classic Boston intelligence and show confidence.
Her babies have been amazing little ones with great looks and personalities. Her first babies were AKC champion bloodline Boston terriers and her last litter was her Frenchton litter (sire Monkey). She is/was a great mama to her precious babies.
With her short muzzle, she is bit snorty and does snore, and not just a little bit. Lady likes to be right with us, loves car rides, and is happy no matter what we are doing.  She is used to teens, toddlers, and people of all ages. 
One of my dear friends has kept her quite a bit for me so she has been extra spoiled and is used to living in a house with a big yard or apartment.
 Let me know if this little treasure might be the one for you.  We are looking for a wonderful forever family for her. As with all of our adult adoptions, Lady can come back to us at any time for any reason in the future. We want her future to be secure! – Lady is now adopted and enriching the lives of seniors at 'her' assisted living home.

 Adopted or in their Forever Homes ~
Our sweet little ladies below are now in their forever families. They are still very  much forever in our hearts too!

AKC BOSTON MIZTERIOUS TREASURE
Mitzi has been spayed and adopted into her amazing forever family. 
Mitz came to us in November 2012.  She is such a loving little girl and loves to jump in our lap any chance she catches us sitting down.  She's playful, obedient, super cute, and just a little bundle of joy.  She's not too laid back and not overly energetic, just the right amount of love, spunk, and intelligence. 
She is our next step in breeding excellence.  She's champion sired by GRAND Champion Kd's Crazy "Bout a Sharp Dressed Man by Charlie and her pedigree is loaded with Boston champions. 
Mitz was enjoying the super spoiled life living with one of my friends who needed someone special to spoil! She insisted on sleeping in bed with her and greeted her like she has been gone for days even if my friend has just been gone for 5 minutes.  
She has had her last babies and has been adopted by her amazing forever family. We really miss this little treasure! Adopting an adult is a great choice for some families. Like all of our adults, she is house trained, crate trained, sleeps in the bed with us, generally obedient, vaccinated for life, spayed, and spoiled. She is truly a treasure!
You can see her amazing babies on our 2016 Available Puppies Page. They are all traditional Boston colors and are over the top on the cuteness scale.  All have been adopted.

AKC HUSKEY'S SONG of SOPHIE
                                                   Sweet Sophie has had her last babies and is in her forever home
My daughter raised Sophie from a newborn. She is our third generation female raised for health, champion bloodlines, looks, and longevity.
Sophie is both sweet and funny.  She loves to explore and play with the kids but can also be the instigator of the bulldog activities.  Her personality is outstanding, just like her sire, and she is happy no matter what we are doing.  She loves hanging out inside, outside, watching, playing, running, exploring, she just loves life!  
Her sire, our Bogie One, had over 40 champions in 7 generations and carried himself like a champion. Sophie definitely inherited his outstanding personality and disposition.  She is as sweet as they come.
Her patellas have been OFA certified and she is in excellent health. Through parentage testing, her babies will be jhc-clear.  Outstanding!
Sophie had some amazing babies and they have all been adopted into their forever families.

AKC SWEET SADIE CAKES
Sadie has been adopted by her amazing forever family who is also keeping our young Boston stud 'Rocko' (Hero's son).
       Sadie is quite a character! She has a unique personality and you can almost see the mischievousness in her expression.  She is a collector like her mother before her, and collects an unlimited assortment of goods to store in her bed. Its not uncommon to find, a toy, sock, spoon, baggie, numerous cow hooves, and almost anything she deems worthy of collecting.
       She's a great looking girl with just a bit of champion bloodline and she is very smart and can go pretty much wherever she pleases. With her long legs and agility, the doggie gates mean nothing to her and were never even a challenge.  
       Sadie is also our third generation Boston terrier. Her parents are Juju and Starbuck, and Malley is her grand dam.
Her sire, dam, and grand dam were our Bostons and are now living with their amazing forever families.  Her patellas are OFA certified and she is in excellent health.  Through parentage testing, her babies are certified clear of jhc (juvenile hereditary cataracts).  Sadie has been an exceptional mother.  The blue puppies on the previous puppies page are hers.  Beautiful and smart babies!
Sadie has had her last babies and is ready to be adopted to a wonderful forever family.  She is house trained, crate trained, generally obedient, loves to be with us but is also happy to explore and collect on her own.

AKC Spring
Spring has had her last babies, has been spayed and is with her new forever family 
Beautiful Blue Spring is a recent addition to our family.  She is a very devoted family member and has firmly attached herself to one of our teenage daughters.  She is a wonderful mama who has come to live with us from a friend in Florida.  Her and Kabota's beautiful babies were all blue and white.  
Spring is in excellent health and has had her patellas checked.  We are waiting for OFA certification.  She weighs about 24 pounds and so her babies should mature at around 22-24 pounds.
 With her more reserved nature and Kabota's outgoing clown-like nature, we were not surprised at her babies wonderful personalities.! They have all been adopted.